PATTERN WORKSHOP
Hey, I'm just checking in to say hello! I've been working behind the scenes on a few projects that I can not wait to share with you. The most obvious project is the new blog design. mingo & grace is headed in a new direction, so I wanted to change the platform so that I could keep all of the new features under one umbrella.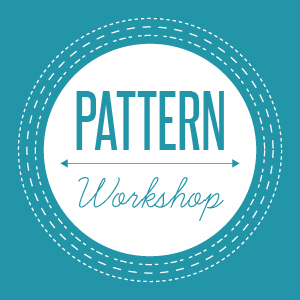 I've been busy taking Lauren Dahl's Pattern Workshop Creating PDF Patterns: From Sketch to Sale course and I can not say enough great things about this course. Lauren is such a great instructor, I feel like she is holding my hand walking me through each step. Her teaching style is very laid back, which I find helpful with such a technical course.
I must admit, I was a little intimidated by the course. Even though I have experience in graphic design and pattern drafting, I had never used any Adobe programs. I just didn't think I had time to learn a new program. Luckily, Lauren includes Intro to Illustrator and Illustrator Essentials with the course. Not only will you learn how to draft your own patterns digitally, you also learn everything you need to know about Adobe Illustrator to get you started right away.
The course is AMAZING. Lauren has really done a great job putting Pattern Workshop Creating PDF Patterns: From Sketch to Sale together. The course is so much more than just learning to digitize your patterns. Lauren includes courses on pricing and marketing your patterns and surviving the pattern testing process. The content never expires so you can learn at your own pace. One of my favorite features is the Pattern Workshop Facebook page. The group is only for students of the course and we have our own little community to ask each other (including Lauren) questions.
I've never really considered myself a fashion designer but rather someone who understands garment construction and enjoys pattern drafting. I've been sewing for 20 years so, creating my own sewing patterns is the next logical step for me and with this course it is finally becoming a reality. Check out the Pattern Workshop Creating PDF Patterns: From Sketch to Sale, you'll be happy you did.